The Cisco Partner Summit is the place for Cisco partners to hear about the vision on Cisco on the next year ahead and further. It's great to get the insights and hear direct from the people in the Cisco leadership team – so let's take a look at some insights for 2023.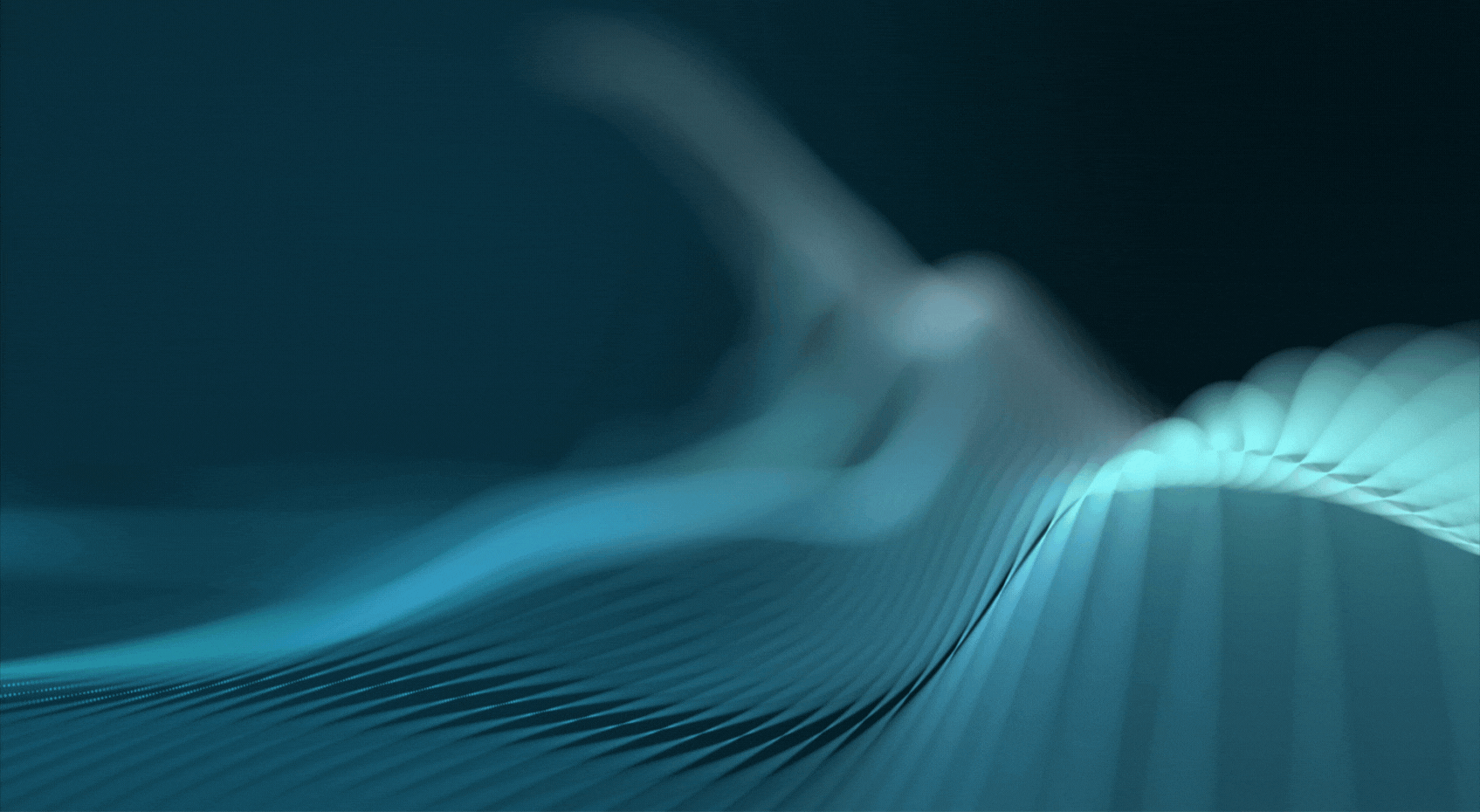 ---
Greater Together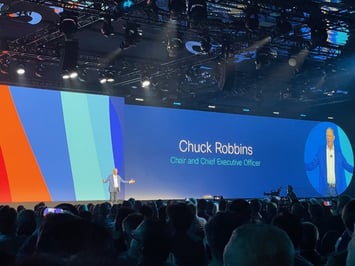 The partner summit opened with a presentation from Chuck Robbins, or 'uncle Chuck' as he referred to himself, which is quite cute.
The major theme for Cisco is Greater Together.
In the context of his presentation, Cisco are really backing their partner community, so the concept of Greater Together is all about how we can work together, as partners of Cisco and Cisco themselves for the greater good of the people that really matter – our customers.
Dave West, who leads the APJC region was essentially on the same page with his presentation, which also focussed on the same theme: but being slightly more specific in pointing out the reason – we are greater together, because this allows us to better serve our customers.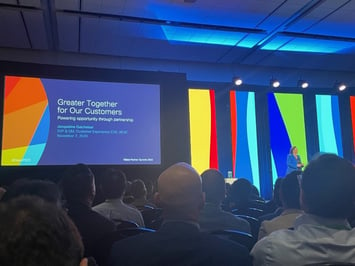 Cisco are planning to increasingly transition to a software-based business, so there are lots of insights around improving how software is delivered and consumed.
While Cisco have acquired a lot of software companies to achieve this aim, they have been busy integrating them.
One example of this integration is that you can now access a range of these software tools direct from each other.
A good case in point is from the Meraki dashboard – you can get direct access to ThousandEyes from the dashboard now, so no need to login separately to another window – it's all connected into the one place.
This logic extends to installing the ThousandEyes agents across a range of Cisco products, such as on Catalyst switches or Meraki MX appliances. The aim is to keep improving on the integrations and give customers more value from the products they have purchased.
ASSOCIATED BLOGS:
---
Hyperconnected World
Liz Centoni spoke about a number of key technologies that Cisco see will be important in customers minds, so helping drive growth not only for Cisco, but for us as a partner.
The Cisco security portfolio has been realigned and the product set now integrates better with the snappy name of Cisco Secure Access Edge (SASE). This encompasses a number of technologies in the stack, achieving different aims for the customer.
Artificial Intelligence (AI) was, of course, ever present in many presentations and if Cisco are serious about being a software company, AI is going to be a cornerstone. You can see it starting to appear in things like AI RRM in the wireless product set and various actionable insights on Cisco DNA Center that use AI.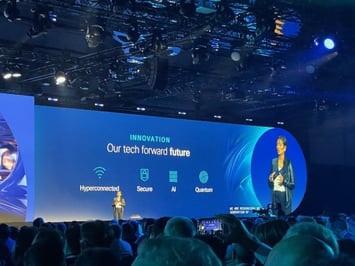 The insight that's of most interest for us at IPTel though is the Hyperconnected future.
This means that many more people and objects will be connected to the internet.
This will drive adoption of newer Wi-Fi standards that support bandwidth and density of clients – so we can expect to see an uptake of Wi-Fi 6E deployments and soon enough, Wi-Fi 7.
As experts in the design of Wi-Fi this is good news that one of the key pillars of the future vision of technology will be in our own key technology space.
ASSOCIATED BLOGS:
---
Managed Services
Cisco has taken the view that customers increasingly want stronger, and longer-term, support from their partners. With the introduction of a number of new Gold partner specialisations, they are sending a signal that they also want their partners to specialise and be able to support their clients to this deeper level.
At IPTel, we have followed the Cisco roadmap to certify as a Gold Partner. The increased backing has been great for us at IPTel Solutions, and Cisco has really backed us on the journey. There has been a lot of support to help is specialise and put in place all the technology, systems and processes we need.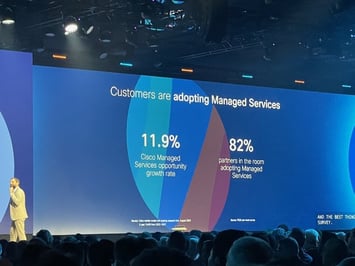 As part of us achieving Cisco Gold partner status, we have been audited a number of times by an external auditor to certify we have achieved the necessary skill levels, as well as systems and processes.
We are not alone in this space though – Oliver Tuszik took us through how Cisco sees the opportunity and a high percentage of Cisco partners have seized the opportunity to enter the high-growth space of managed services.
Within just the APJC region, Cisco are projecting some big numbers for spend on Managed Services, so there is a big market which suits highly specialised partners like us: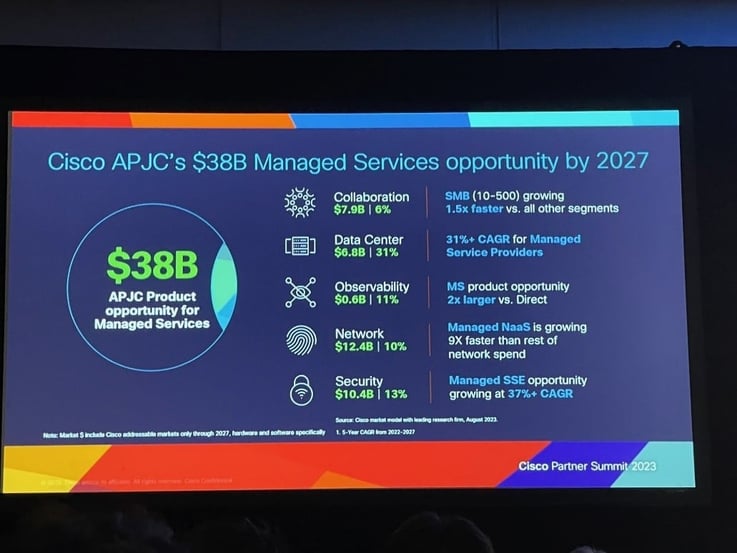 ASSOCIATED BLOGS:
---
Cisco Partner Summit 2023: Summary
It's definitely interesting to hear from Cisco's leaders on where they see the market opportunities and how they believe we, as partners, can train and serve our customers in the best way.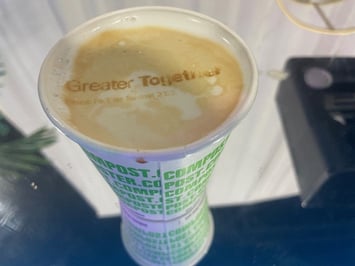 Predicting the future is hard, but there are some pretty certain guesses in the strategy – AI will play a major part and connecting more devices and IOT will be a major part of what spurs wireless refreshes – with customers looking increasingly to partners that have the skillset to help them support and maintain their environment.
We have been supported by the Cisco team in our own quest to achieve Gold Partner status, so they really do seem to be meaning Greater Together when they have adopted it as a tag line.
The key take aways are to work more closely as a team, but for us as a partner to evolve and apart to become best in class at supporting our customers and helping them to get the most out of the networking (and software) investments they have made.
Read a little more about our team, Cisco Wireless, Cisco DNA Center and how we can help fix up your network.
If you're after a few tips and tricks in the Wi-Fi space, have a look at our Top 8 Secrets to Great Wi-Fi eBook.