Cloud networking is a term used to describe how network equipment is configured, controlled and monitored.
Cloud networking disconnects the network engineers from needing a console cable to get network equipment up and running and allows for remote configuration, ahead of the deployment to take place and the config be deployed to the equipment when it first connects.
The Meraki Dashboard is the entry point for Meraki cloud networking and provides an in-built, cloud-hosted Network Management Interface for configuring and monitoring all Meraki network devices.

Meraki Dashboard Layout
The Dashboard is the single point of management for Meraki networks, allowing visibility and manageability from Internet edge (Latency, through to Access Point clients and CCTV cameras).
Meraki Wi-Fi, Switching, Cameras and Security Appliances can all be managed via the GUI.
The image below shows the overview, allowing you to access all the network devices you have (on the left hand side) and seeing live statistics on devices and clients in the centre: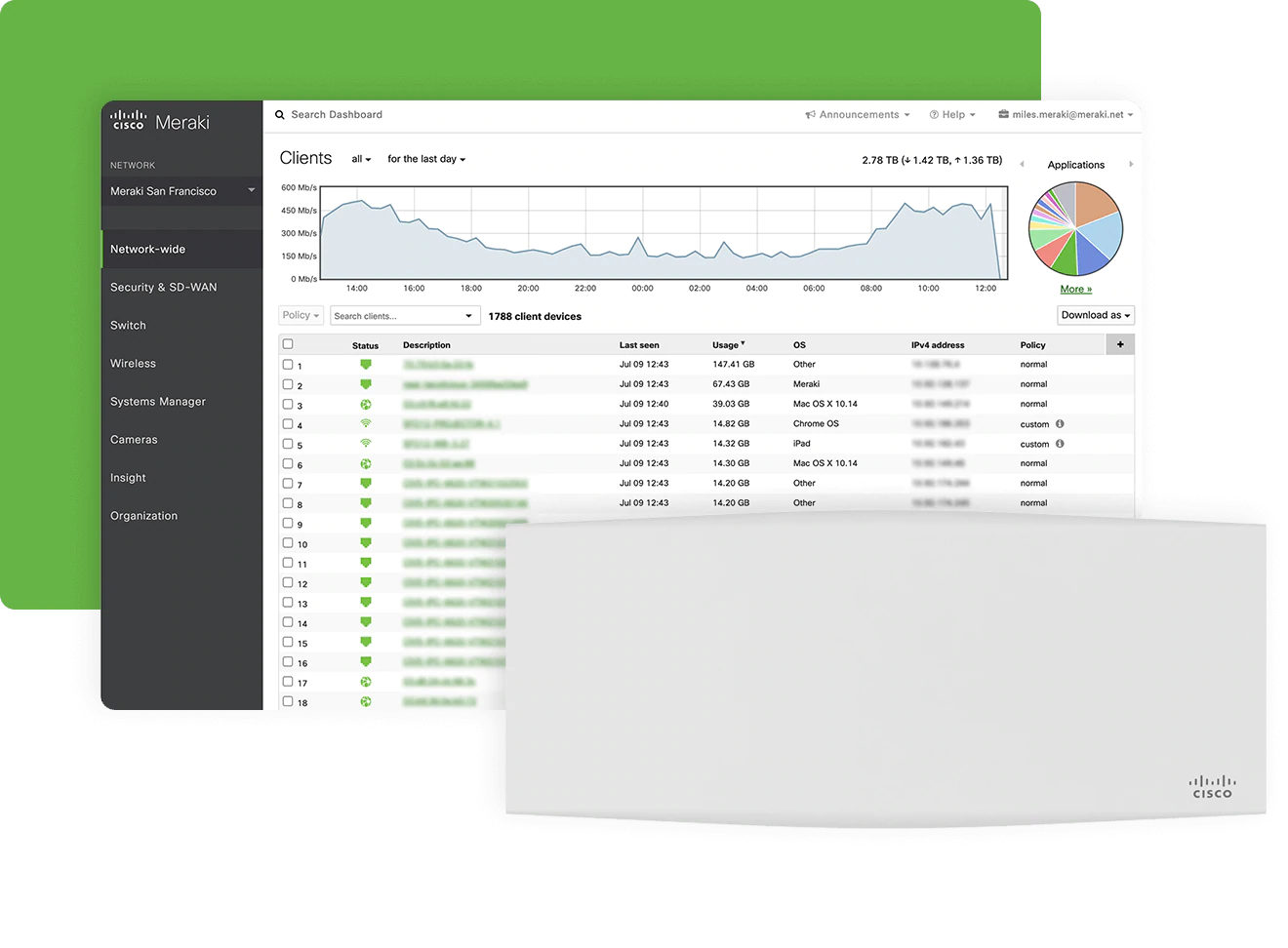 Related Article: Meraki Cloud Wi-Fi
Meraki Dashboard Device Grouping
The Meraki dashboard is easy to navigate, with devices grouped into networks (effectively sites), and there are multiple network types under each.
You can view each of your technology types separately (e.g. Wireless, Appliance etc) or in a combined view, see them all together.
To help with larger rollouts, networks can be cloned or templated for easy deployment (allowing settings to be replicated between sites/networks).
For network monitoring, each technology tab has "monitor" and "configure" tabs which creates a logical flow for network management.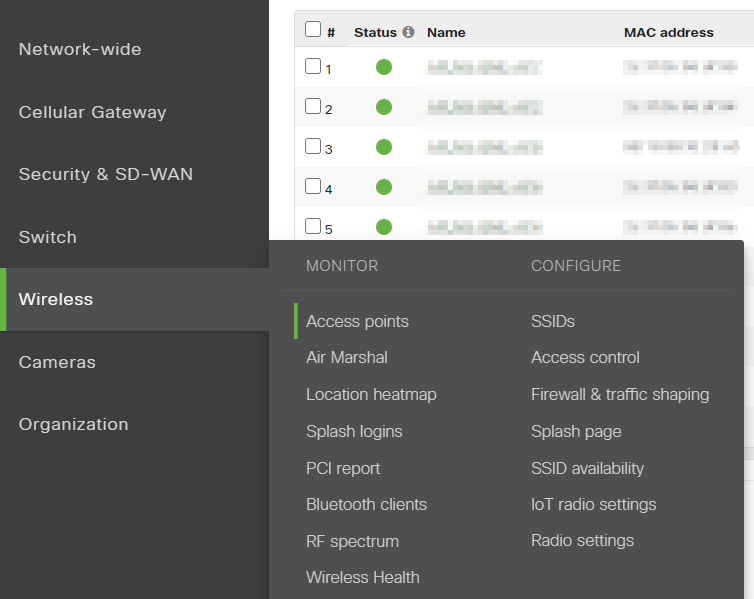 Meraki Dashboard Client View
Detailed network information is visible from each Monitor tab.
As soon as network devices are able to reach the Meraki Dashboard, network and client health information is automatically presented without any configuration required: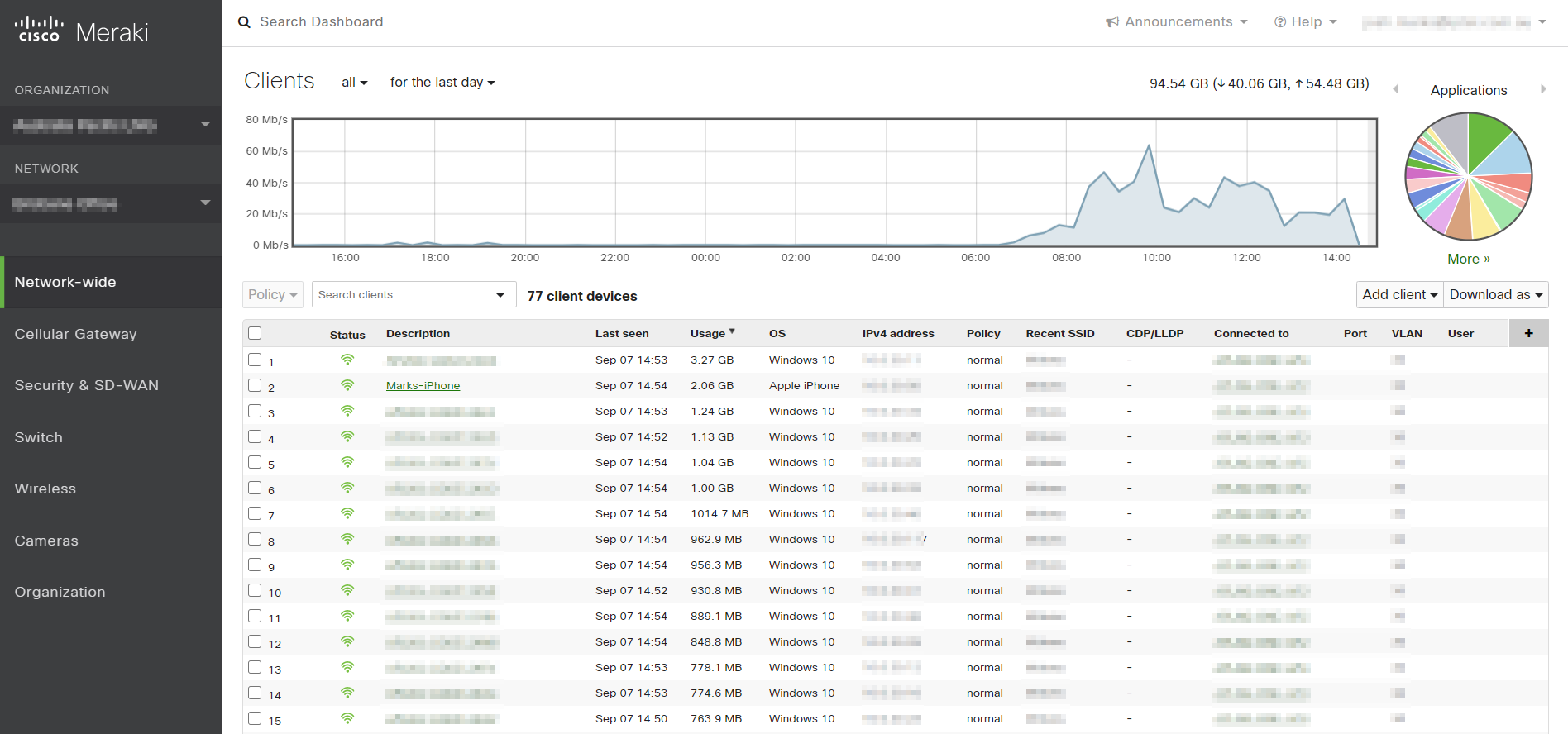 The option exists to configure network events that will trigger email alerts to network admins, or specific individuals if required. This is pretty handy, as it allows you to set and forget - the network looks after itself and sends alerts when issues occur.
Meraki is also the perfect technology for Managed Services - the ability to have a central view across sites and customers makes Meraki ideal for this.
Meraki Dashboard Summary
The Meraki dashboard is there to make life simple. Access to all your networking equipment from one location means you can be remote and have control of all your sites.
The ability to pre-configure devices in the cloud and they download their config when they first connect means that equipment can be sent directly to site, which can save a massive amount of time.
Though the default Dashboard is a formidable NMS, additional configuration options make it highly flexible and configurable. The ability to access the Meraki API, for example, opens up a world of opportunity.
Overall, Meraki has a great offering - simple, intuitive and accessed via the internet - Meraki has brought a level of ease and simplicity to networking that will be celebrated by network administrators.