Cisco Meraki Access Points are a great tool to simplify the implementation of your network - cloud controlled, easy meshing and simple installation. They look great - and offer high speeds.
Coupled with auto code upgrades.. what's not to love?

Meraki Access Point Overview
Meraki offers indoor and outdoor APs that are 802.11 a/b/g/n/ac/ax (Wi-Fi 6) capable.
Indoor variants can support patch and sector antennas while outdoor (external) APs support dipole, patch, sector and stadium antennas.
APs range from general purpose/small business wireless, all the way to enterprise grade, state of the art.
Meraki Cloud Management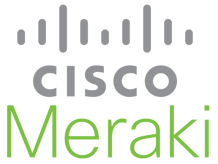 All Meraki APs are cloud managed and don't require a physical controller/appliance to manage them!
All they require is an internet connection to start working immediately.
They can be commissioned and configured in the Dashboard as soon as you have your Meraki order via email.
Send them straight to site to be installed and they will pull their configuration from the cloud and begin serving clients within minutes. This is pretty handy when you have access points being delivered direct to site - you can remotely configure them and they can be installed by the end user.
Wi-Fi 6 Meraki AP Models
Meraki APs always look to impress with aesthetic design and slim form factor. There's a range of APs, depending on the throughput and other features that you want to use.
The MR36 offers 1.7Gbit max rate, the MR46 offers 3.5Gbit max rate and the MR56 offers a whopping 5.9Gbit max rate.
The Wi-Fi 6 range all look pretty sleek too:


Simple Wireless Mesh

Ever configured wireless mesh before?
Had to spend hours getting your head around all the configuration intricacies? With Meraki wireless, all you need to do is provide power to the downstream mesh AP (e.g. PoE injector).
Nearby APs will automatically form a mesh link when the downstream AP cannot form a LAN link to the internet. Meraki make AP variants that support external antennas, which really helps to be able to select the most appropriate antenna for the deployment scenario.
Example mesh AP deployments are typically external: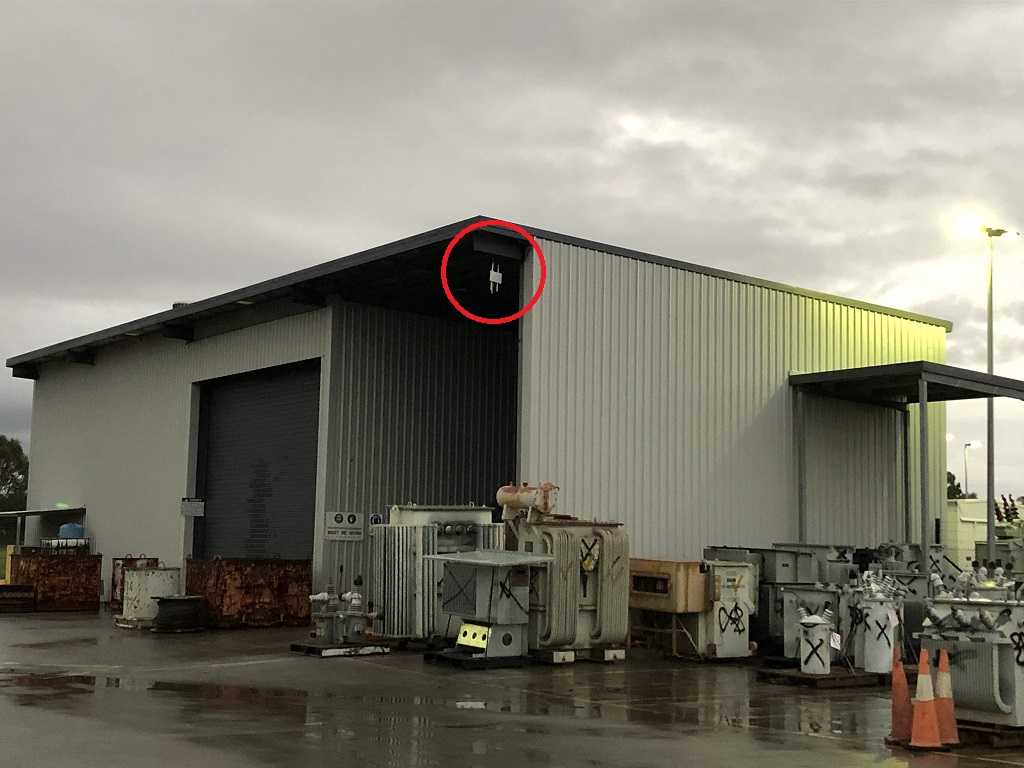 Worth mentioning that all Wi-Fi installations should have a predictive survey - this ensures the coverage will be correct for the AP choice and the use case. It's a lot cheaper than guessing!
Mounting Flexibility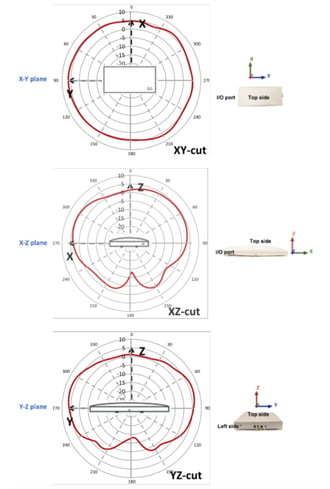 If you've worked with wireless before, you may have been told not to mount your APs on the wall, as the coverage pattern is most efficient on the ceiling.
Meraki changes this - all Meraki indoor APs can be ceiling or wall mounted, as their coverage patterns are spherical, rather than the common "doughnut" shape.
This allows flexibility with mounting options and removes the requirement of obtrusive wall-mounting brackets.
The images on the right show how the antenna pattern propagates when the AP is above (top image) or sideways on (middle image) or head on (lower image).
The patterns show how the AP propagates in each dimension.
Meraki AP Summary
The key point of this blog is the flexibility of the Meraki APs.
Many customers are moving to a cloud first strategy and Meraki was designed with this in mind. The ability to have the full networking product set be cloud managed is a strong driver for many customers - the switch comes out of the box, gets plugged in and pulls down it's config, It couldn't be simpler.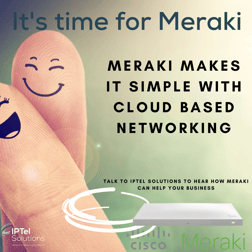 Cloud management means you don't have to be onsite with a console cable when the equipment get's installed - as soon as its able to connect to the internet, Meraki will connect to the cloud dashboard and you can configure via a web page.
With Meraki managing the code upgrades there's a major ROI there too. This means that the code upgrades are automatically scheduled and undertaken - you can set the times, but Meraki takes care of the rest.
The final note - there's no loss of features with Meraki - there's Mesh and there's massively high throughput APs. You're not going to have any lesser experience with Meraki than traditional controller based APs - only that they're a lot easier to manage.
Here's an offer you won't be able to refuse - a Cisco Meraki free AP. Drop us a line to find out more.
If you're after a few tips and tricks in the Wi-Fi space, have a look at our Top 8 Secrets to Great Wi-Fi eBook.
ASSOCIATED BLOGS:
Meraki Made Simple: Meet Dave
Want to hear more about Meraki?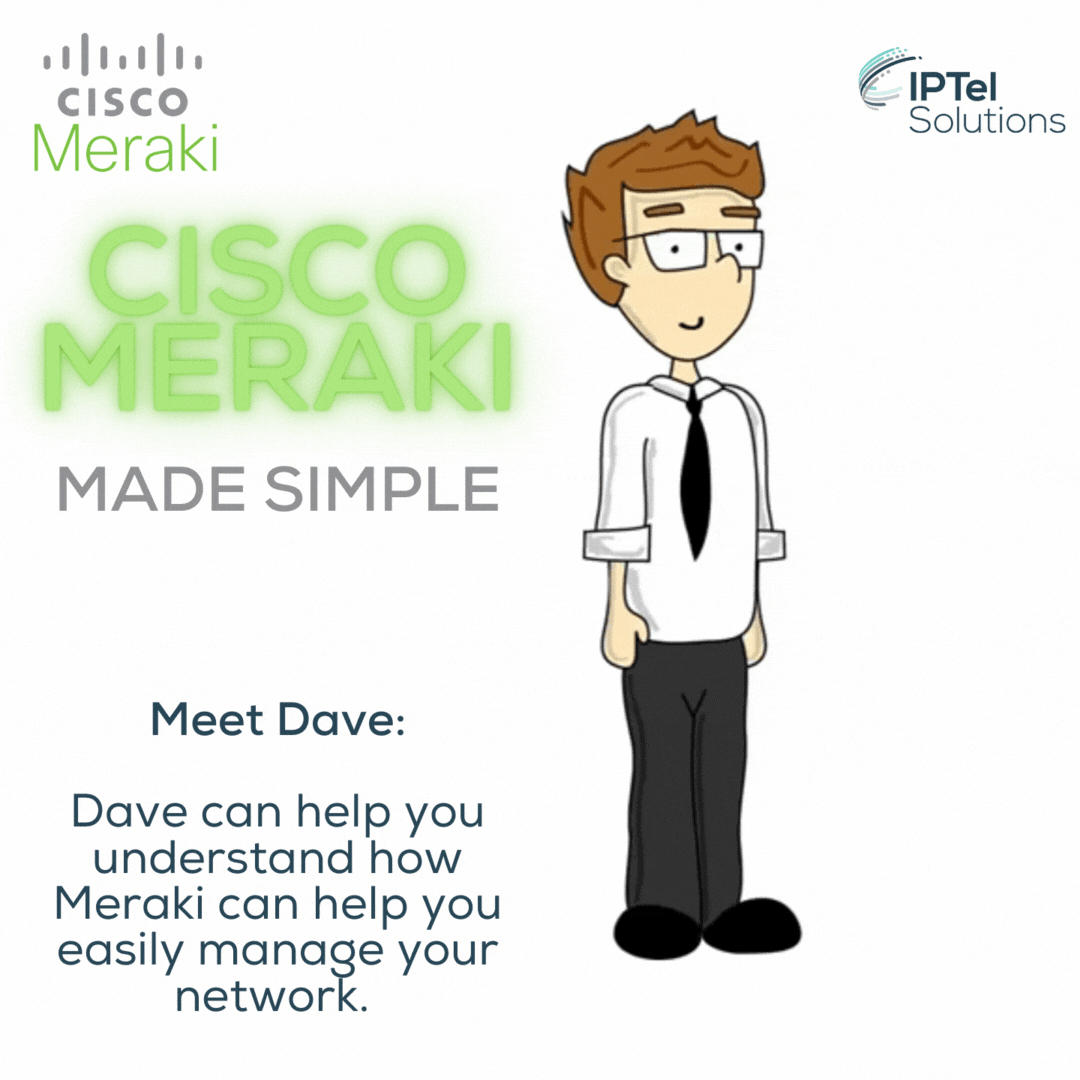 Meet Dave. Dave is an IT Manager with an ever-growing list of requirements from his network. Dave has a lot of network challenges and a lot of new devices and applications to look after.
In this short video, we explore how Dave can tame his network, reduce costs, centrally manage AND add functionality to his network.
If you're interested to hear more about how Meraki can help your business, email us at
sales@iptel.com.au
or complete our
Request a Quote
form, if you're ready for some pricing.