At IPTel, we're a Cisco Premier partner (one down from Gold). The Gold partners are the "big boys" in the market, but there's space for smaller, specialised partners - and that's where we come in.
Being a partner, we get access to the Cisco Partner Summit, and in this blog, I'll lift the curtain a little on some of the themes from this year.
Enjoy!

I've been listening in on the Cisco Partner Summit 2020 – this year in full virtual format.
Some key themes, which are pretty obvious, are coming through.
Many businesses have transitioned – or are in the process of doing so – to different ways of working.
Let's take a quick run through on some of the themes!
Move to the Cloud
This is obvious – everyone is moving to the cloud. The full scale move of everything to the cloud, is a different thing. Not all services suit a move to cloud and some are actually more expensive to deliver this way.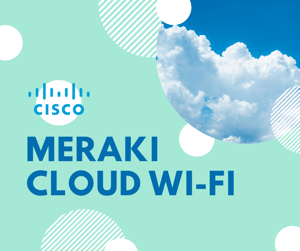 All things in the right place then, and the use of cloud where appropriate, is a great thing to many businesses.
We use O365, which gives us quick and easy access to the suite of Microsoft products, rented as and when we need.
For a software provider, it can allow churn, so here's an interesting point: customers have the choice to move.
To prevent churn, suppliers need to build great software, so the customer sticks with the software and doesn't move away.
What does the move to the cloud for Cisco look like?
I guess Meraki is – and will be for a long time – the best example. The ability to manage equipment from a website, rather than needing to fish out a console cable is pretty handy.
Keep it Simple
The cloud move has one overriding principle, Keep it Simple.
This isn't just true in the network deployment, but in the operation of the network - and the services it supports too.
The image below came from one of the presentations (excuse the *), but I thought this really illustrates a point:

This resonated on a couple of levels.
Firstly, I've just bought a Tesla (I can't say enough about how AWESOME a car it is), but the above image shows how the Tesla dashboard is beautiful and easily interpreted. We can make human - machine interfaces to really work for us.
(If you're thinking of buying a Tesla, drop me a line - I'll let you have my referral code for 1500km of free supercharging - excuse the plug ;-))
Enterprise Agreements
Probably not unsurprising that Cisco would bring up Enterprise Agreements. So much of IT is now PAYG (or SAAS to be correct) and so term based licencing is where the whole industry is at.
A lot of customers are uncomfortable not owning a perpetual licence - there's another way to look at this though. If you are not happy and you've only rented the licence, you can cancel and move elsewhere (or in the case of Cisco, not renew at the term).
There's an argument that term licencing actually gives the customer additional power, control and choice (As mentioned above, Microsoft Office 365 is a great example - don't use the software any longer? Just cancel at the end of the month).
Back on the topic is Enterprise Agreements, they are typically for larger customers, but allow access to a huge swathe of licences.
Every network engineer will be itching to get their hands on all that functionality and see what they can build.
Work Anywhere, Anytime
The major work theme is to work from anywhere.
Staff rapidly relocated to home at the start of COVID and now home working is now very regular and much more common than it's been before - and funnily enough there's a central reason - people like it.
I grabbed the image below from one of the presentations (excuse the slight blur), as I thought in one succinct slide it shows the key points (also exclude the Webex prompt).
People want to work easily, securely and with some nice, smart features: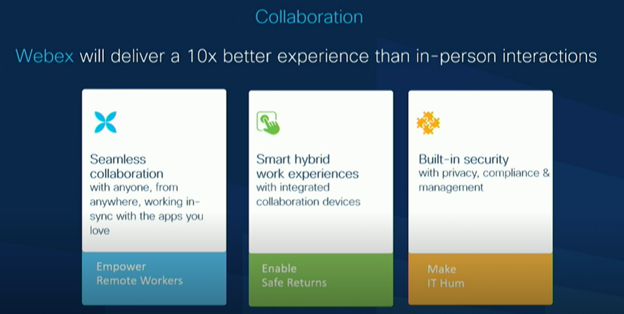 All the above topics really come down to the same point. The way in which we provision our networks - and consume the services they provide has very rapidly and fundamentally changed.
Cisco Partner Summit 2020: Summary
So - there's a lot of themes in the above.
We're very lucky in many ways that the cloud maturity has reached the point is has - and communications (especially wireless) has reached the level they have. It has been perfectly possible to send all staff from home and this work - and work well.
This year, with such a massive in (and rapid) shift in how we work, it's been amazing to see just how flexible and quickly we can move. Technology has allowed this - but it's the people using the technology that in the end have been able to adjust quickly.
The key points that I thought worth noting from one of the sessions were why customers work with a company:
Trusted Brand
Innovation
Connection to Customers
And I think that as a summary, is just where IPTel, as Premier partner sits in the market. Drop us a line if you're interested for us to take a look at your networking needs.
Read a little more about our team, Cisco Wireless, Cisco DNA Center and how we can help fix up your network.
If you're after a few tips and tricks in the Wi-Fi space, have a look at our Top 8 Secrets to Great Wi-Fi eBook.