CT Scanners are a pretty impressive looking bit of clinical technology.
At what must be an anxious time for patients, it's nice to see how the hospitals are working hard to make a nicer environment for patients.

Hospitals rely heavily on technology and have a highly mobile workforce - who often need to get help and assistance quickly.
Some of the technology is pretty awesome to look at in it's size and scale (and cost) too. Let's take a peek at what a CT Scanner looks like!
ASSOCIATED BLOGS:
---
Hospital and Clinical Wi-Fi
Just before getting in to the CT Scanner, some quick detail on hospital Wi-Fi. Hospital Wi-Fi tends to stand above the Wi-Fi deployed in almost any other environment.
First up, it needs to work! Hospital Wi-Fi can be used for a bunch of simultaneous services (think of patient entertainment screens, BYOD, Guest, BioMedical, Location Tracking, Hospital Wayfinding, duress and of course, Corporate Access).
There's such a wide array of services, which are now specific to Wi-Fi in hospitals. Let's not forget about the basics too - Wi-Fi Voice (which is often in need of remediation in hospitals). Clinical Hand Hygiene is a good value add service too.
If you're interested to read a bit more about how to get you clinical Wi-Fi working, we've got a free downloads, the Top 8 Secrets to Great Wi-Fi.
There's a huge amount of technology in your average hospital - some of it is quite daunting to look at - and none more so that the CT Scanner - especially when it starts up.
While patients should not have metal on them for a CT scan, as it can affect the images, we can't even put a Wi-Fi access point in an MRI room - the giant magnet in the MRI Scanner will cause issues there.
ASSOCIATED BLOGS:
---
CT Scanner: Inside Detail
I've been working in and around hospitals for a number of years now. The size, cost and complexity of some of the equipment you see is quite mind boggling in the clinical space.
I don't know too much about CT scanners, but I came across these couple of really great pictures recently: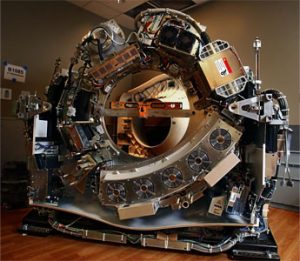 Normally shaped like a giant white doughnut, the photo above shows the scanner with the covers off – there's a lot of equipment there under the surface.
I gather they're pretty noisy in operation, and by the looks of it there's a lot of cooling fans that would be generating all that noise.
ASSOCIATED BLOGS:
---
Patient Friendly Technology
Considering that having to lie stock still in this quite intimidating machine, its nice to see that some hospitals have really gone the extra mile.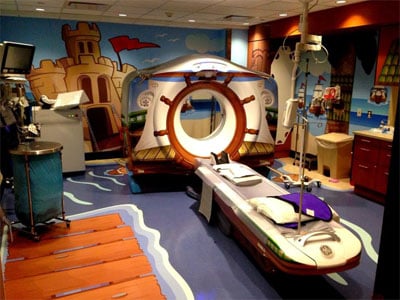 One of my colleagues came across this photo, which we think is from a hospital in Washington (not sure if that's Washington state or DC). Its amazing what a bit of inventiveness can do and can clearly see how it must be so much more calming for young patients to get their scans in this room than in the standard clinical room.
ASSOCIATED BLOGS:
---
Clinical Wi-Fi: Summary
Wi-Fi is a major technology in the clinical space. Hospitals use Wi-Fi extensively for many functions - and it just has to work!
Use of Wi-Fi Phones and Location tracking are now common place. Many hospitals also use Wi-Fi for patient monitors (Philips and Draeger are major brands in this space), and as you move into BioMedical support, the reliance on Wi-Fi gets ever greater.
RELATED ARTICLE: Clinical Wi-Fi Top 5 Design Tips
Hospitals are full of hugely expensive equipment, as the scanners above illustrate. They are also full of a lot of small, valuable and highly mobile equipment - which increasingly connects via Wi-Fi (allowing remote monitoring, access and tracking).
Hospital networks really take some special attention to the design and resilience, with Wi-Fi now taking center stage.
ASSOCIATED BLOGS: