Finding your way around a hospital can be challenging for patients, visitors and employees. MazeMap provides a solution to this challenge with their easy-to-use indoor maps. MazeMap indoor navigation tool lets visitors search for rooms and buildings and receive graphical turn-by-turn directions on any mobile device.
Wi-Fi Interaction with Wayfinding
Cisco Mobility Services Engine with Connected Mobile Experiences software calculates and reports location of mobile devices in real time, feeding back to MazeMap allowing a seamless navigation experience in Norway Hospital "St.Olavs University Hospital". Cisco APs located all around the campus compute users locations using real-time device location, radio frequency (RF) spectrum details that MazeMap employs to deliver its indoor navigation services.

To simplify network management, all Cisco APs connect to a Cisco Wireless Services Module (WiSM) controller running on Cisco Catalyst 6500 Series switches. The scalable controller can support up to 1000 APs and 15,000 clients, extending the same policies and security from the wired network core to the wireless edge. Cisco standard-based wireless encryption authentication security covers the entire campus.
"We are pleased to deliver a wayfinding service through our partnership with MazeMap and Cisco that is being used every day by our patients and visitors to make their experience here at the university hospital the best possible," says Professor Slrdahl. He notes that the service markedly improves the customer experience by making it easier to navigate the buildings, and by doing so provides tangible benefits:
Reduces stress by providing predictability for visitors and employees
Reduces the workload at information desks
Increases productivity by helping ensure patients arrive on time for their appointments
Find My Friends
Find my friends is a service designed by MazeMap to help find colleagues, fellow students or friends in large spaces - while maintaining privacy. With Find My Friends you can see each others position in real time - when indoors.
University campuses are often complex and confusing which can be difficult and frustrating when trying to find co-students or colleagues. With Find My Friends you ll be able to locate your co-student or colleague in seconds.
Open plan environments and large office spaces can make it hard to know where your colleagues are. Find My Friends makes it easy to find each other, while simultaneously saving time and unnecessary frustration.
Finding your colleagues at large conventions or events among thousands of other visitors, can be very challenging. Often it is also too noisy to give directions via phone. Find My Friends removes this frustration and leads you back to you friends in no time.
How it works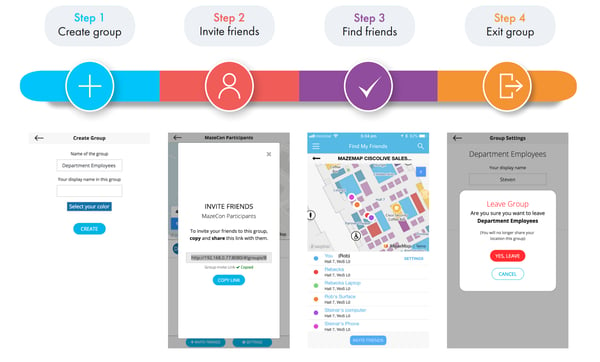 With Find My Friends, users can easily find each other throughout a campus, building of conference venue, increasing user satisfaction and efficiency.
Find My Friends utilises existing Wi-Fi infrastructure for obtaining users locations. Only users that have actively accepted to join a group will be tracked and a users can leave a group at any time. All user positions are obtained in a secure way from Cisco CMX. For further improving privacy, users can select their own nickname to be shown, and the location will only be visible inside the building/venues. Once the users leaves the Wi-Fi network - tracking stops and others will see "No position available". Find My Friends is a real time service and no user locations are stored by MazeMap or by the Find My Friends service.
In January of 2018 MazeMap was used at Cisco Live Barcelona. With over 12,000 visitors throughout the 4-day event, Find My Friends was used by over 9,000 people and 1,400 groups were created - saving Cisco Live attendees a lot of time and frustration.
MazeMap in Hospitals

Together with reminders, such as SMS or email, MazeMap can contribute to reducing missed appointments by showing people exactly where they should meet. As the case for NHS, similar calculations from hospitals in Norway shows a cost benefit if you can help 0.1 % more patients meet for their appointments.Whether meeting up for an appointment or visiting a loved one, MazeMap can show people where to go, where to park, where to eat and where to buy gifts. Basically, you can lift the experience and increase the service to your patients and visitors.

Employees need help finding their way if they are called for a meeting or appointment outside of their ward or building. With MazeMap you can include links to meeting rooms directly in the meeting invitation to help employees know where to go and increase efficiency.
With MazeMap you can integrate with alarm systems, so when an alarm goes off nurses, doctors or security personnel can be shown exactly where the alarm is. This can save time when time is critical.
Together with vendors of equipment tracking you can use MazeMap to visualize where important equipment is placed, help you save time searching for equipment.
Conclusion:
The Future of Wayfinding
MazeMap is a searchable, linkable, user-friendly and always up-to-date map platform for your organisation/business. The future of Wayfinding lies here. With the incorporation of high-grade Wi-Fi, MazeMap allows for simple and effective Live Location Wayfinding, Alarm System integration and equipment tracking.
Please contact us should you like any further information on Mazemap.