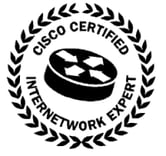 I took my CCIE around 11 years ago now, but like everyone who's attempted the lab, you don't forget it quickly. Passing the lab is no easy feat - there's a pre-qualification exam, followed by the lab itself. I've heard it said that 80% of people that start the CCIE journey never pass, so there's a reason it's right up there with the hardest qualifications in IT.
I'm not ashamed to say that I took a few attempts at the lab. I passed on the 5 th attempt. For me, I think it made me a better engineer to have to try harder, and reach deeper.
I had to learn the technology to ever greater levels and find ever deeper motivation to continue. I spent around 18 months of very long days (and nights), studying for the exam, and I don't think most people's journey is too different to that.
One bit of advice I had from the outset was once you start you can't stop - all that effort has to end somewhere and so it was that I kept trying.
Passing the Cisco CCIE Exam
I had passed all my Cisco exams first time, up until I attempted the lab - CCNA, CCDA, CCNP, CCDP, then the lab came and broke my perfect rate of exam achievement. It was like a sledgehammer!
My first attempt, I thought I was well prepped. I took about 7.5 hours to complete the lab, with a woefully inadequate amount of time to check. By the time I passed, my ability to type and think quickly had evolved immeasurably. I finished the lab in under 4 hours, with another 4 for checking.
The Benefits of the Cisco CCIE Lab
When I see a CCNP struggle to quickly configure an ACL or configure a bit of dynamic routing, I think back to how quickly it's possible to implement config. In the end, CCIE will give you a mastery of the technology that a CCNP never will.
In essence, CCIE forces you to burn for the technology - the late nights, the expense, the sheer personal cost of the time and emotional commitment you put in ensures that.
Every CCIE has a story to tell about what it took to get over the line. You will grow as an engineer, and your speed and accuracy will improve - but to pass you need to show the sort of insane commitment of someone who's willing to spend $1500 for a lab attempt and yet keep coming back.
If you start the CCIE journey and give up after one or two goes, you probably shouldn't have started. It's a long haul and you have to aim for 3 or 4 attempts at the outset. If you pass quicker, that's a bonus. It's a very, very tough exam, no doubt, so go in with your eyes open.
Cisco CCIE Emeritus
So, what of Cisco CCIE Emeritus?
I achieved this status after 10 years as a CCIE, I even got a new plaque from Cisco. I can now pay to remain as a CCIE, without re-certifying.
This is handy - let's face it as we all get older, you want to slow a little, so Emeritus allows me to stay as a CCIE, but not be involved in the intimate detail of the technology.
That said, engineers are made a certain way - we all love checking out the new technology, so I've not hung up my console cable just yet :-0