It's a wrap! The Cisco Partner awards and Cisco Live are complete for another year.
It's a huge honour and privilege this year that IPTel Solutions have won the Project Delivery.
IPTel have been awarded one of the Cisco partner awards - Project Delivery Excellence: Cisco Partner of the Year.
Cisco Project Delivery Excellence Award
Congratulations to our fellow winners, Data#3 and Ingram Micro, who were also recognised for their exceptional innovation and delivery throughout the year.
The award is in recognition of the way in which IPTel addresses projects and how we like to work with our customers - as a true trusted advisor. All projects have constraints, but our ability to deliver large scale, complex projects in record time has been proven, with Cisco recognising IPTel at this years awards.
The photo below, shows the moment we were announced, with Michael Reid at the microphone: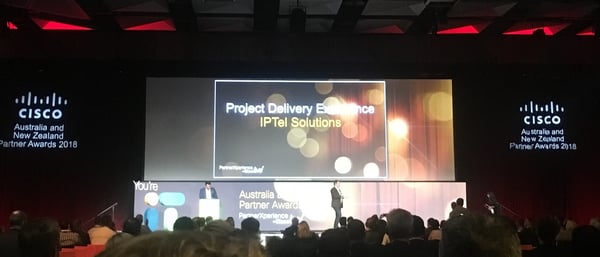 IPTel Solutions: Project Delivery Excellence Award Winners
The project was centered around works for the University of Queensland, where IPTel has delivered a range of services in the Wi-Fi space from installing many hundreds of access points, though to delivery of wireless standards, designs and new controllers.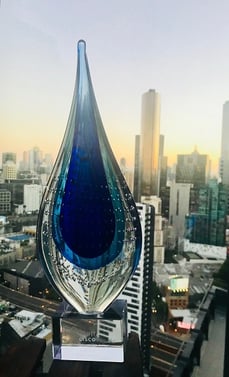 Our team put in a fantastic effort, and worked closely with UQ and Cisco to complete works within a condensed timeframe.
Recognition from Cisco is a great way for IPTel to be recognised by a leading manufacturer, and for this we are very proud.
We're in good company with the award too, with many awards won by major integrators, seeing IPTel competing with companies much larger than ourselves, yet winning on how we interface with our customers.
The award is a finely produced glass teardrop. It's surprisingly heavy and you can see it basking in the early morning Melbourne sun in the photo on the left.
Not too long after the awards, I was interviewed by ARN, so if you're interested to hear a bit more about what we do at IPTel, have a read of the CRM article.
A big thank-you to our dedicated and enthusiastic team at IPTel, the success of the project was entirely due to their amazing efforts. Everyone involved worked hard to achieve the goal, and were willing to do whatever was needed to everything done on time.
Project Delivery Excellence: How can we Help?
At IPTel, we specialise in Enterprise Networking. This can include most aspects of building a network. We are well known for our expertise in the fields or wireless LAN and Cisco ISE. If you're interested in IPTel working on a project for you, please contact us, or drop us a line at sales@iptel.com.au