The Cisco 3800 series access point is a solid choice of AP from Cisco.
The 3800 combines 802.11ac Wave 2 capability with the capability to add a module - so you can add a WiPS module or Hyperlocation to the AP.
There's also the big brother of the Cisco 3800 series AP - the Cisco 4800 series. This AP includes built-in Hyperlocation antennas for the highest of location accuracy.
We've compiled a list of a few questions that get asked around the AP - particularly with its requirement for higher levels of PoE power and bandwidth.
Cisco 3800: mGIG Requirement
mGIG is a relatively new standard to allow the use of higher throughput switch ports. For APs which can now push more than 1Gb of throughput, the current typical standard of 1Gb switch ports is insufficient.
Newer Cisco switches, such as the 3850 (update: Cisco 9300) provide 802.3at PoE and mGIG, which can sync to the capabilities of the end device - 1Gb, 2.5Gb or 5Gb.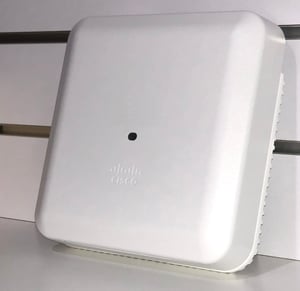 What is the expected lifespan on 802.11ac?
This is of course a tricky question to answer! The better way of looking at this is that a rough rule of thumb has seen wireless speeds roughly double every 2 years or so. The lifespan on the equipment could get you anywhere from four to eight years though.
The four year mark is probably a reasonable compromise between having the latest technology deployed and ensuring you get the most out of the asset.
802.11ax is of course the next major standard. We've got a great whitepaper download for Wi-Fi 6 (802.11ax).
Cisco 3800: Second Interface?
The second cable can be used if you don't have an mGIG capable switch and wanted more than 1Gbps of through put. You can then use in a 2x 1Gbps configuration. The second port though is not needed or used for PoE.

How are Bluetooth Beacons Deployed?
Bluetooth beacons are being increasingly deployed for the use of triggering location based alerts.
Typically, this will work with a phone app - for example wayfinding to indicate that you have passed a particular point, or to set an alert when you are located in a specific position.
Cisco make add on beacons and also provide 'virtual beacons', where the AP can beamform a Bluetooth beacon to a specific location - making it very easy to adjust the beacon locations.
Can the AP coexist with a DAS System?
DAS systems are Distributed Antenna Systems and are normally deployed to deliver 3G / 4G (no doubt soon 5G) services to buildings. The 3800 series include band pass filters to ensure they can co-exist with this type of system without interference.
The Cisco 3800 and High Density User Experience?
At IPTel we've been designing for high density for a long time - typically this is to support lower power devices, voice roaming and location tracking.
The concept of very high density is around now - this is to support lots of users, each being able to stream high bandwidths.
Cisco now have the concept of Flexible Radio Assignment (FRA) and this can be configured to allow APs to dynamically turn on a second 5GHz micro cell and switch off the 2.4GHz radio.
With 2.4GHz reaching further than 5GHz and 5GHz having more channels available, this is the perfect compromise to allow for more channels to be deployed, without increasing interference.
Need help with your Enterprise Wi-Fi?
At IPTel, we work in the delivery of enterprise grade networking. We specialise in the delivery of Wi-Fi and can help with all aspects of Wi-Fi design, commission and installation. We do a lot of remediation, so Contact us today if you need some help, or email us at sales@iptel.com.au.