This blog will kick off the introduction to what Industrial IoT is - and which industries might be able to benefit.
IoT is not just about small little Wi-Fi connected devices, but a wealth of industrial, ruggedized devices, designed to be used in an industrial setting.

---
The Industrial IoT Basics
Industrial IoT is all about delivering a range of benefits for industrial customers. There are some givens with industrial IoT equipment:
Ruggedised
High Temperature
Vibration Proof
Cleared for use in hazardous environments
Support for multiple SCADA protocols
Specific to the use case
Industrial networking equipment has moved on - there's a range of new features, controllability and visibility, not previously available.
ASSOCIATED BLOGS:
---
The Industrial IoT Evolution
The shelf life of industrial networking equipment is very long - 10 - 15 years typically. The ability to have newer IoT equipment that is centrally controlled Software Defined Access (SD Access) capable are very appealing.
Add to this the new capabilities, to undertake cyber security (Cisco Cyber Vision is a good example) and there's a whole new world to explore in Industrial IoT.
IoT equipment comes in a range of devices, to allow large networks to be built:
Industrial Routing and Switching
Industrial Networked Sensors
Industrial cyber security
With the ability to support SDA, there's the option to use Cisco DNAC to monitor and manage the network - offering advanced network management.
Below is a typical example - this is the Cisco IE3400 switch. These switches come in a range of form factors to allow complex networks to be built: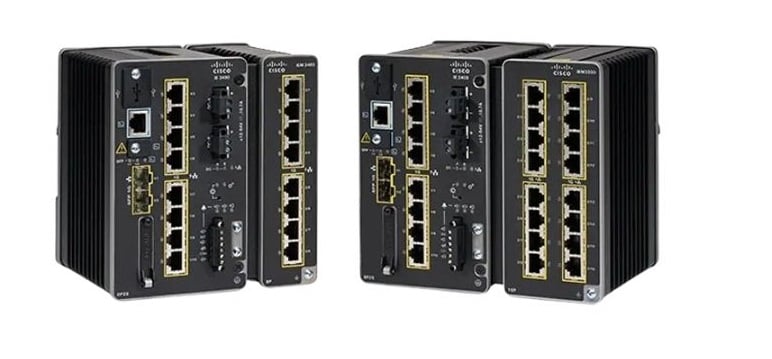 ASSOCIATED BLOGS:
---
Cisco Cyber Vision
A very quick mention to Cisco Cyber Vision. This software allows the active scanning and reporting on industrial networks to track when equipment is end of life, is vulnerable or is reporting issues:

Let's take a look at some industry verticals to see how the technology might be used - this is a quick high level overview.
ASSOCIATED BLOGS:
---
Water: Industrial Control and Monitoring
Connect all your critical infrastructure with industrial switching and routing. Centrally monitor and control your network assets to ensure security and network reliability and uptime.

Mining: Communications across the Mine Site
From mining camp Wi-Fi to a complete Industrial Mesh to control autonomous mining trucks, widescale and ubiquitous communication if key in mining.
Underground mining needs flexible communication equipment, rated for the environment.
Electricity Generation and Transmission
Scalable industrial grade networking equipment. Build large scale, complex networks capable of supporting SCADA equipment.
Provide Wi-Fi in the field, around substations and generation plants for mobile workforce connectivity.
Transport
: Less pollution, more Benefits
Monitoring of cameras, traffic and assets. Use of industrial sensors on bridges and high speed mesh for trains.
Traffic and traffic light connectivity to allow full control of the transport infrastructure.
Warehousing: Smart industrial Warehousing Solutions
Warehouses can be dusty, hot or humid places, with no air conditioning. Industrial switching and sensors are useful to provide reliable service and high uptimes.
Warehouses really rely on Wi-Fi, so worth a read about how to design quality warehouse Wi-Fi.
Solar and Wind Farms: In-Field
Communications
Wi-Fi Mesh coverage to allow for staff communication and duress in the field. Sensors and high temperature and vibration rated industrial networking to connect SCADA and plant equipment and provide remote control and monitoring.
Gas and Petroleum: Mesh and Mine Camp
Connectivity
Connect compression stations and mining camp demountables with high quality wireless and Wi-Fi. Industrial grade switching and routing to build large, complex networks to control infield plant and equipment.
ASSOCIATED BLOGS:
---
Industrial IoT: Summary
The summary for Industrial IoT is pretty simple: industrial equipment is coming of age. The advanced features normally reserved for corporate networks are now available for industrial networks.
We're working with a range of Cisco IoT, so worth dropping us a line, if you're interested to hear more.
The equipment is specific to the industrial space and is built for the environment. Support for multiple SCADA protocols and the ability to centrally manage, monitor and control means the Operational Technology network administrators have network visibility like never before.
ASSOCIATED BLOGS: