Below we look at the new to market MIST AP41 Access Point. MIST was set up by some ex Cisco engineers and its claim to fame is accuracy for location tracking - along with the ability to have virtual bluetooth beacons.
Virtual BLE isn't unique in itself, but the combination of high accuracy location, vBLE and cloud managed make for an interesting package. Typical competitors in this space might be the Cisco Hyperlocation module, so the AP is playing in the high end space.
A test unit was kindly given to IPTel Solutions so we could run it through its paces and see what makes MIST different to all of the other players out there.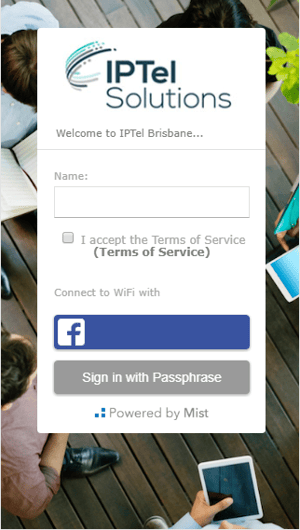 First Impressions
From first impressions the AP looks to be quite a unique offering in the market, being positioned to make location aware services and data analytics, which are easy for any organisation to implement. Setup was a breeze and we had the AP up and running within a few minutes.
The first thing we noticed when logging in is that the UI is well laid out and important information and metrics are only a few clicks away. It is nice to see that MIST are trying to make operational tasks as easy as possible by providing detailed event based reporting to take the hard work out of diagnosing common issues seen by many organisations.
As a first test, we configured a guest WLAN using the built in Guest Portal functionality. The process was very straightforward and allowed plenty of customisation to make it look the way you want, such as adding a nice background or your company branding. The image on the right shows the mobile responsive version on an iPhone - this allows us to login via a facebook login, or using a pre-determined passphrase.
Hardware
Moving on to the hardware itself, MIST have kept things simple and only offer two separate models. One that offers Wi-Fi and Bluetooth Low Energy (BLE) radios, and the second that offers BLE only.
SHould you have any questions on this, please contact us and stay tuned for a series of future blogs that will go into more detail around location tracking and data analytics features which is where the AP really shines - we've got some screen shots, to show the GUI and location of devices. Even with only one AP, the accuracy was good (3 - 4m), so it would be interesting to see how this fares when multiple APs are added.