In 2019 I was honoured to be awarded with the title of Cisco Designated VIP (or simply Cisco VIP) for my contributions to the online Cisco Community forums. The Cisco Community is an online discussion forum used for sharing and discussing any topics around Cisco solutions.
You can visit the Community at this URL: https://community.cisco.com/
Anyone with a Cisco CCO ID can contribute to the Community, and reading the existing discussions is open to all to read, even without a CCO ID. You may have found that a Google search on a Cisco topic returned a series of links to the Community, offering advice or answers.
How does one become a VIP?
Community members are rewarded for their contributions by means of digital badges and titles that are displayed in the Community, and the more one contributes, the better the rankings get. Posting valuable questions or articles can earn status points, and so can answering questions, especially if that answer is ultimately marked by someone as having provided the answer. Sometimes however people may wish to tag a reply as 'helpful' since it's part of the solution, but it's not the entire answer that is required. The Leader board rankings consist of Most Solutions Provided (correct answers) and Most Helpful.

The VIP selection process is a Cisco internal process which is not revealed to the public. I have it on good authority that VIP selection is not only related to the rankings, but more importantly, to the consistent high quality of the contributions. This means there are Cisco employees who keep an eye on the quality of discussions, as well as answers provided. It is reassuring to know that these decisions are still human, and therefore the chances of cheating your way to the top will be thwarted. The selection is made once at the start of the new calendar year, and the award is valid throughout that year only.
In my case, the Designated VIP was directly related to my contributions to the Cisco ISE (Identity Services Engine) and Partner Security forums.
What does it mean to be a VIP?
Apart from the digital VIP badge on the Community, Cisco also rewards its VIPs with a ticket to attend Cisco Live in a few destinations around the globe (travel and accommodation are not included). The Cisco Live admission price is worth a few thousand Dollars and it's not to be sneezed at. At the Cisco Live events there is typically also a dinner evening to allow VIPs to meet and get to know each other, as well as the Cisco VIP Program Team.
Cisco Community VIP:

Conclusion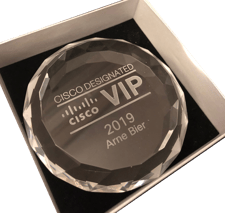 It literally pays to contribute useful content to the Cisco Community forums! We all have something unique to contribute and no matter how small or trivial you think it may be, you may be helping one or hundreds of people with your contributions. Just consider the number of times your Google searches have provided you with an acceptable Community answer. Cisco also benefits from this because it offloads some of their technical resources to some extent. And finally, like all social media platforms, Cisco Community can be addictive - but in my opinion it's a healthy addiction whose main purpose is to enrich your own knowledge, and to help others.